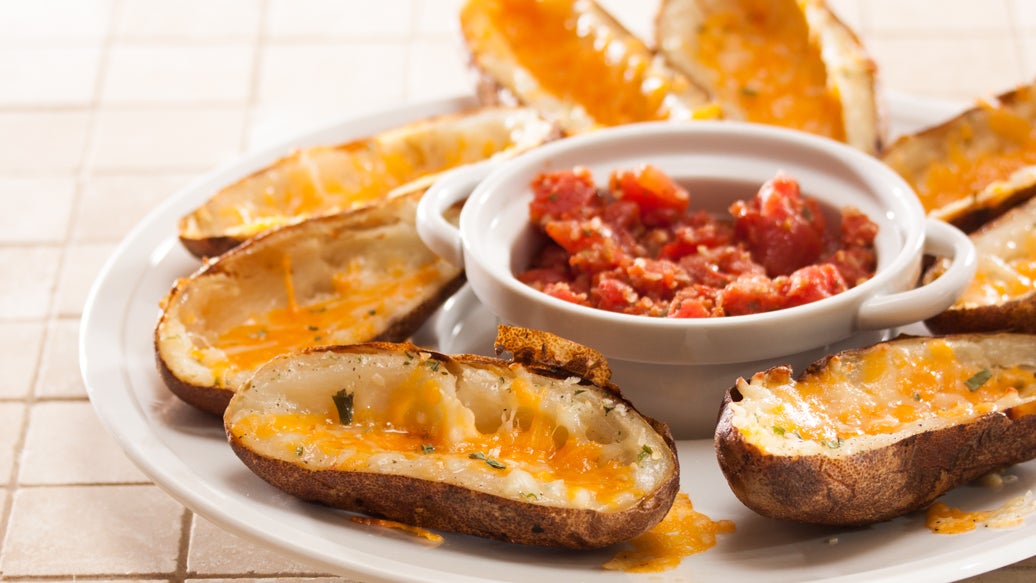 1 hr & 15 min
6 servings
$1.55/serving
Dare to compare? This favourite pub-style appetizer can weigh in at over 830 calories! Make Epicure's leaner version and save over 440 calories, 62 g fat and 690 mg sodium (almost half the recommended daily intake).
Ingredients
6 large baking potatoes
2 tbsp olive oil
2 cups grated mixed low-fat cheese
Preparation
Preheat oven to 425° F (220° C).
Pierce each potato in several places with a fork and bake for 50–60 minutes, until tender.
Cut potatoes in half lengthwise and carefully scoop out insides, leaving a 1⁄4" thick shell. Refrigerate or freeze insides for another meal.
Increase oven temperature to 475° F (245° C). Arrange skins on parchment-lined Sheet Pan. Drizzle with oil. Sprinkle with 3 Onion Dip Mix, Sea Salt and Black Pepper. Divide cheese between skins.
Bake for about 7–10 minutes, until cheese melts and bottoms of potatoes are crispy.
Nutritional Information
Per serving: Calories 390, Fat 8 g (Saturated 2.5 g, Trans 0 g), Cholesterol 10 mg, Sodium 260 mg, Carbohydrate 64 g (Fibre 7 g, Sugars 4 g), Protein 17 g.