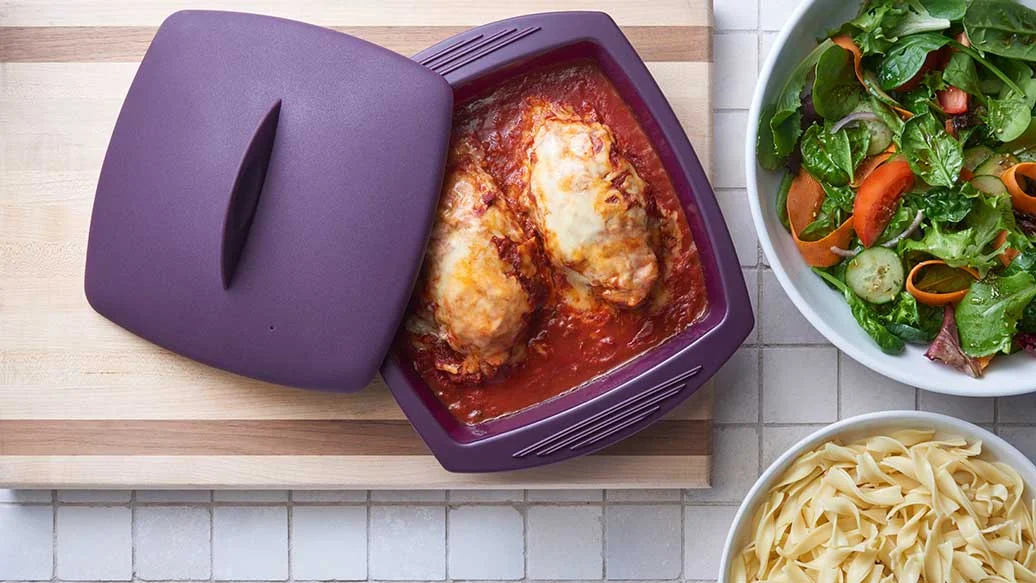 18 min
4 servings
$2.80/serving
Perfectly Balance Your Plate
Serve with 2 cups salad greens, 1 cup egg noodles or rice, and 1 tbsp Balsamic Vinaigrette, prepared.
Ingredients
2 tbsp grated Parmesan cheese
450 g (1 lb) boneless, skinless chicken breasts, sliced in two
1 cup grated mozzarella cheese
Preparation
Cover the bottom of a Multipurpose Steamer with Marinara Sauce.
In a shallow bowl, stir together the breadcrumbs, Parmesan, seasoning, and salt and pepper, if desired.
Dip each chicken piece in the breadcrumb mixture, patting to coat thoroughly on both sides.
Place the chicken pieces in the bottom of the steamer and layer mozzarella cheese on top. 
Close lid and microwave on high for 6–8 minutes or until chicken is cooked through. Serve hot.
Nutritional Information
Per serving: Calories 270, Fat 10 g (Saturated 5 g, Trans 0 g), Cholesterol 90 mg, Sodium 450 mg, Carbohydrate 12 g (Fibre 2 g, Sugars 4 g), Protein 32 g.