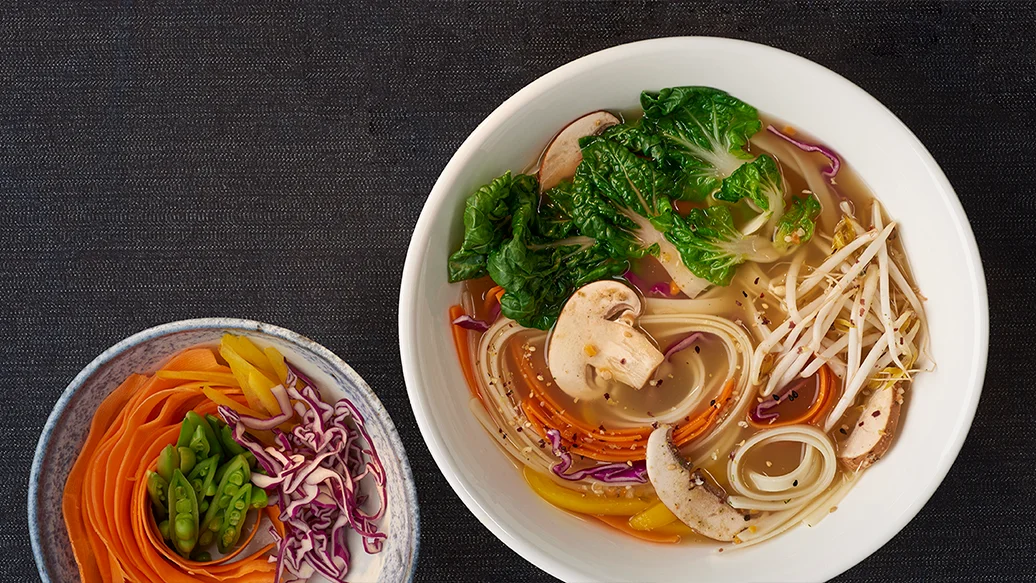 10 min
1 serving
$4.75/serving
Ingredients
1 1⁄5 cups boiling water
1 tbsp Miso Broth Mix
1⁄2 cup cooked rice noodles
4 oz your choice cooked beef, chicken, shrimp, or tofu
1⁄2 cup your choice veggies
1⁄2 cup bean sprouts
1 green onion, thinly sliced
hot sauce, to taste
fresh cilantro or mint leaves, optional
1 - 2 lime wedges
Garlic & Onion Nutritional Yeast Topper, optional
Preparation
In a Multipurpose Pot - 8 cup, bring water to a boil. Stir in the Miso Broth Mix.
In a single serving bowl, place noodles with your choice of protein and veggies, and pour hot broth on top.
Top with bean sprouts and green onion. Garnish with hot sauce, cilantro, lime wedges, and nutritional yeast sprinkle, if desired.
Nutritional Information
Per serving: Calories 410, Fat 9 g (Saturated 3 g, Trans 0 g), Cholesterol 75 mg, Sodium 180 mg, Carbohydrate 44 g (Fibre 7 g, Sugars 4 g), Protein 39 g.