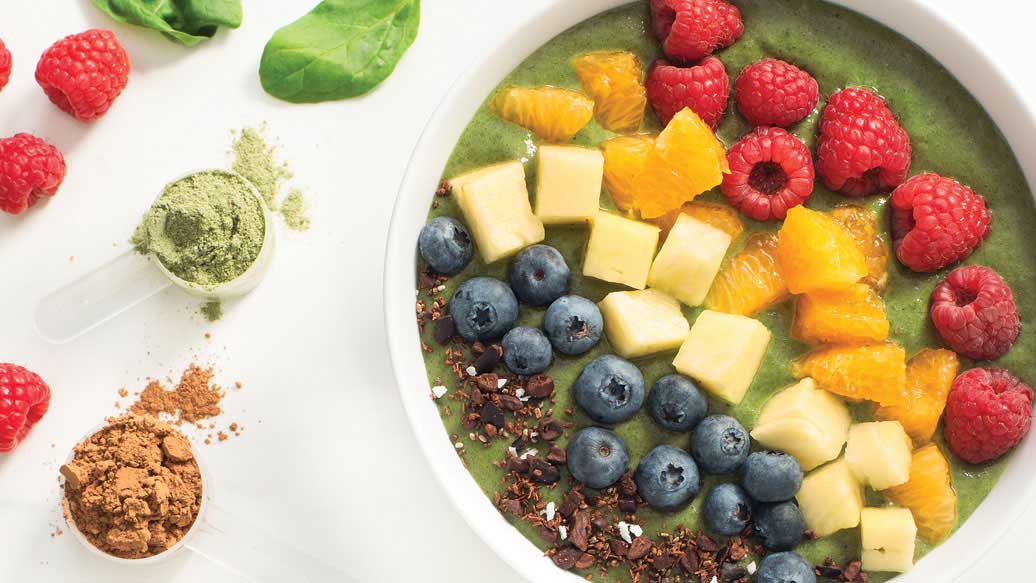 5 min
1 serving
$5.66/serving
Perfectly Balance Your Plate
This is a perfectly balanced plate.
Ingredients
1 kiwi
2 cups baby spinach
1⁄2 cup chopped pineapple
1⁄2 chopped frozen banana
1⁄2 cup water
1 tbsp peanut butter
Toppings (optional): blueberries, raspberries, pineapple chunks, clementine segments
Preparation
Peel and chop kiwi. 
In a blender, combine kiwi, spinach, pineapple, banana, water, smoothie booster, protein blend, and peanut butter until smooth.  
Turn into a bowl.; arrange toppings to look like a rainbow, if desired. Shake on topper. 
Nutritional Information
Per serving: Calories 400, Fat 10 g (Saturated 2 g, Trans 0 g), Cholesterol 0 mg, Sodium 370 mg, Carbohydrate 56 g (Fiber 8 g, Sugars 19 g), Protein 29 g.
Tips
For a creamier texture, freeze kiwi and pineapple chunks before blending.